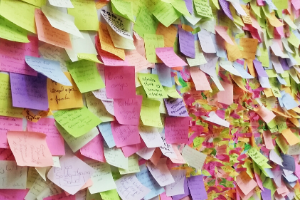 Step Away From The Sticky Notes
I get it. You're excited for a new year and new goals so that means lists, notebooks, folders, and STICKY NOTES!
Do yourself a favor and step away from all that for a minute or, better yet, an hour.
Why? Because I don't want you to feel defeated by Friday.
Paradise is a Parking Lot
You have a lot to get done and don't want to forget anything so you just keep adding. Before you know it, you've got enough work for 2 weeks instead of one day. When making a To-Do List write everything down, rank each item, then write the list again in order. Now take your red pen and draw a line between the first and second halves of the list. The items below the red line are your parking lot items. Put them in aside but don't lose them and don't dwell on them. When you complete the items above the red line, you can start on your parking lot items!
Reality Bites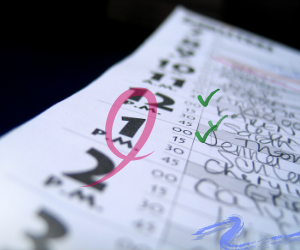 Remember those items above the red line? We're not done with those and the reality is there are still too many items. CHOMP! It's time to get laser-focused on what really matters and clear distractions. Get your red pen again and cut the list in half. Be shrewd and send the lower half to the valet (closer than the parking lot)! Step into your power and put the most energy toward your top items because getting these done will energize you. With all that energy you'll get to some of your valet items-no doubt!
Mirror, Mirror on the Wall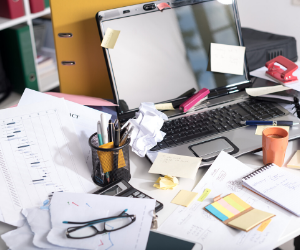 Who's the guiltiest of them all? I AM!
Sunday evening I finished my planning for the week and found myself surrounded by sticky notes, lists, and colorful pens. These things usually bring me joy but there was simply too much and it was chaos. I really wanted to go to bed but I knew that my Monday would be a disaster unless I took control. My favorite color is red, but there were a few times I wanted to trash my red pen because ALL OF THE STUFF IS IMPORTANT!!
"When everything is important, nothing is important." Thanks for these words, Tom Hukill. Tom is a cherished goofball friend who has a smart point. Step Away from the Sticky Notes friends.
The post Step Away From The Sticky Notes appeared first on BridgetBaisch.com.